NOTE: These wipes are ALWAYS in stock. Sale of them must be coordinated with customerservice@gsltechnology.com 
The ATF says you must have a 07 manufacturing license in order to receive or distribute/sell suppressor wipes.
They are controlled as "suppressor components"
The pillbox wipes are very thick, and not punched out of a sheet like some on the market…
See this photo: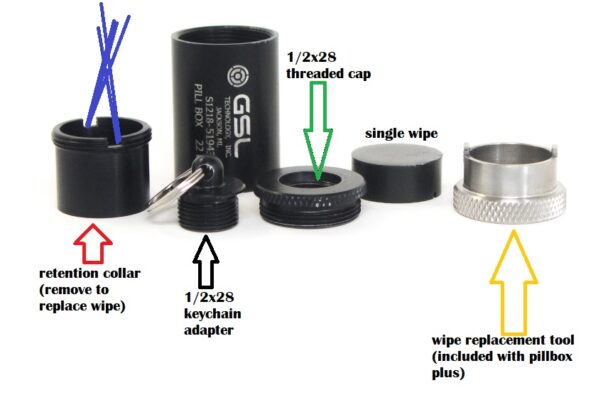 So, we can ship a bulk order of wipes to any Dealer with a 07 license. (Even if they do not carry GSL Suppressors)
If your dealer doesnt have a 07 license, we can ship them to a shop near you and have them "service" the suppressors.
Swapping them just requires a copy of the form 4 and a letter from the customer saying
"To ____ Dealer, Returning pillbox SN____ for service and repair on date2021, signed John Doe Customer."
If no one near you has a 07 license, we can replace the wipes at GSL with the same paperwork.
The replacement happens same day, and immediately mailed back out with new wipes with zero wait time.
The pillbox can only get one wipe per replacement, where the pillbox plus comes with 3 wipes, and can receive 3 more wipes each time for replacement.
NOTE: These wipes are ALWAYS in stock. Sale of them must be coordinated with customerservice@gsltechnology.com